Did you know that all Eliance health plan members have complimentary access to the CareValet App as part of their health plan membership? Members are able to access this free App which includes digital ID cards, links to the Eliance provider search to easily locate a provider in network, benefit highlights and more! The App can be accessed from your desktop computer or mobile phone and we have included photos of each version in this post.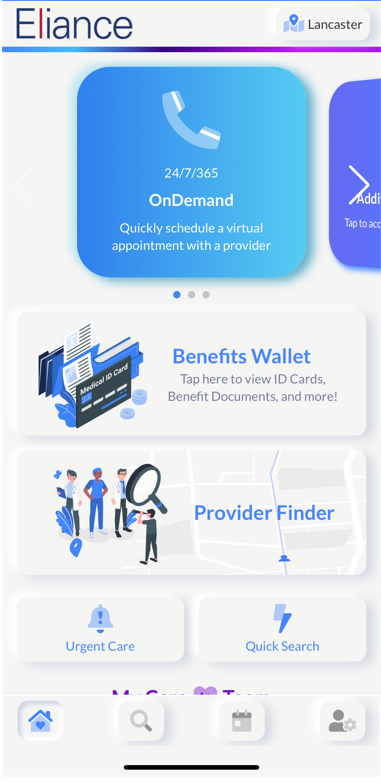 The CareValet App makes organizing and accessing your medical benefit information seamless and includes all of your materials in one place! Here are two NEW updates to the CareValet App-
Provider Search
-
The Eliance Health Solutions Provider Search
is now accessible
exclusively
through the CareValet App. You don't need to worry about visiting our website to search for a provider, you will be able to locate a provider at the click of a button when using the App. We look forward to offering our health plan members this convenience and are excited to provide this within our App!
All you have to do is sign into the CareValet App to find in network providers closest to you and easily access your provider search. The App also allows you to schedule provider appointments and telehealth visits.
CareValet is quick and easy to use and provides a variety of benefits to users including-
Accessing and sharing your digital ID card
Seeing your health benefits
Seeing your current deductible and maximum out of pocket cost
And much much more!
ID Cards-
Updated features for 2022! The CareValet App will feature improved ID cards for each enrollee with additional benefit information. No need to worry about bringing your card with you to an appointment, you can just pull the card up on your phone. Every dependent on the health plan will have an ID card within the App.
If you haven't downloaded the App already, we encourage you to
watch this video
that explains the process. Signing up for CareValet keeps you connected to all of your medical benefits from the convenience of your phone. In addition to the great benefits listed above, you can make appointments, view information regarding Urgent Care locations, access your MyLGHealth profile and more.
To get started and download CareValet today, use the QR code below or
click here
.